From August 3–7, The Phillips Academy Poll polled 971 Registered Voters in Georgia and found Republicans leading in races across the board with the support of suburban voters.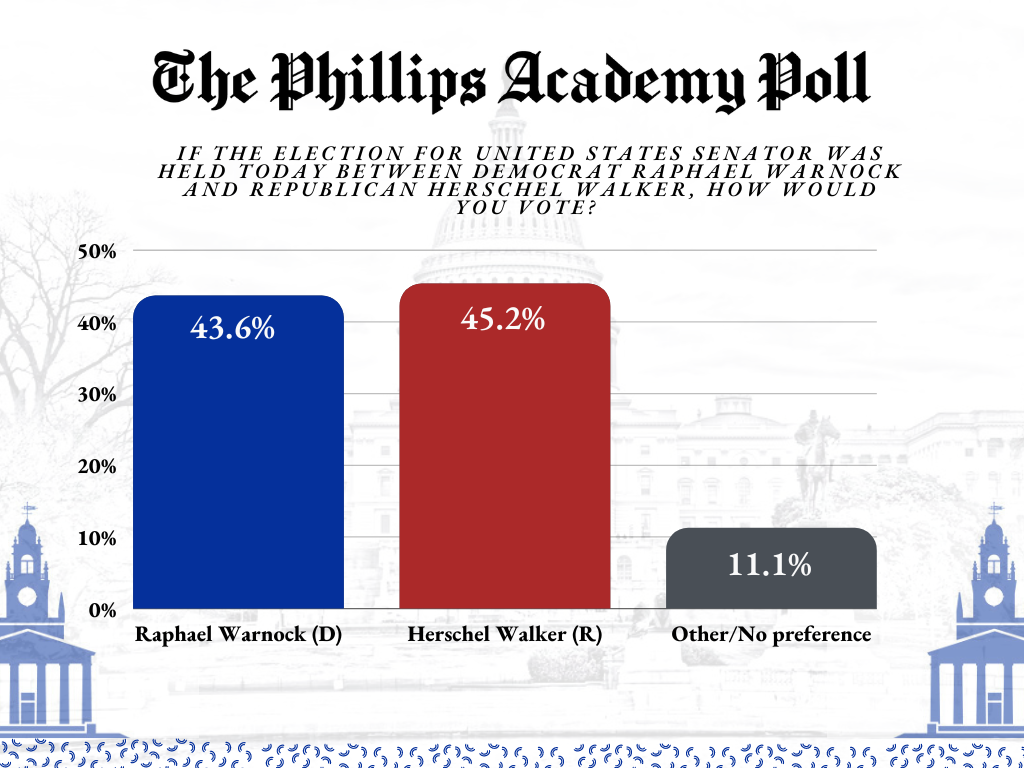 The Phillips Academy Poll found Republican Herschel Walker leading incumbent Democrat Senator Raphael Warnock by 1.6% in the 2022 Georgia senate election, which is less than the poll's margin of error. Walker is a Trump-endorsed former NFL running back, while Warnock was a pastor prior to his election. Warnock is leading by 64% among Black voters even though both Warnock and Walker are African American. Warnock also has strong support among low-income and urban voters, where he leads by 23% and 16% respectively. Conversely, Walker receives most of his support from rural voters, where he is up by 20%. Georgia's suburban voters, a key voting block in the 2020 election, favor Walker by 5.1%. Despite Georgia's historical Republican lean, the state elected two Democratic senators and sided with Democrat Joe Biden in the 2020 presidential election. At the moment, neither candidate has 50% support, so if the election were held today, both Walker and Warnock would advance to a runoff. With 11% of voters undecided, however, this race is still up in the air.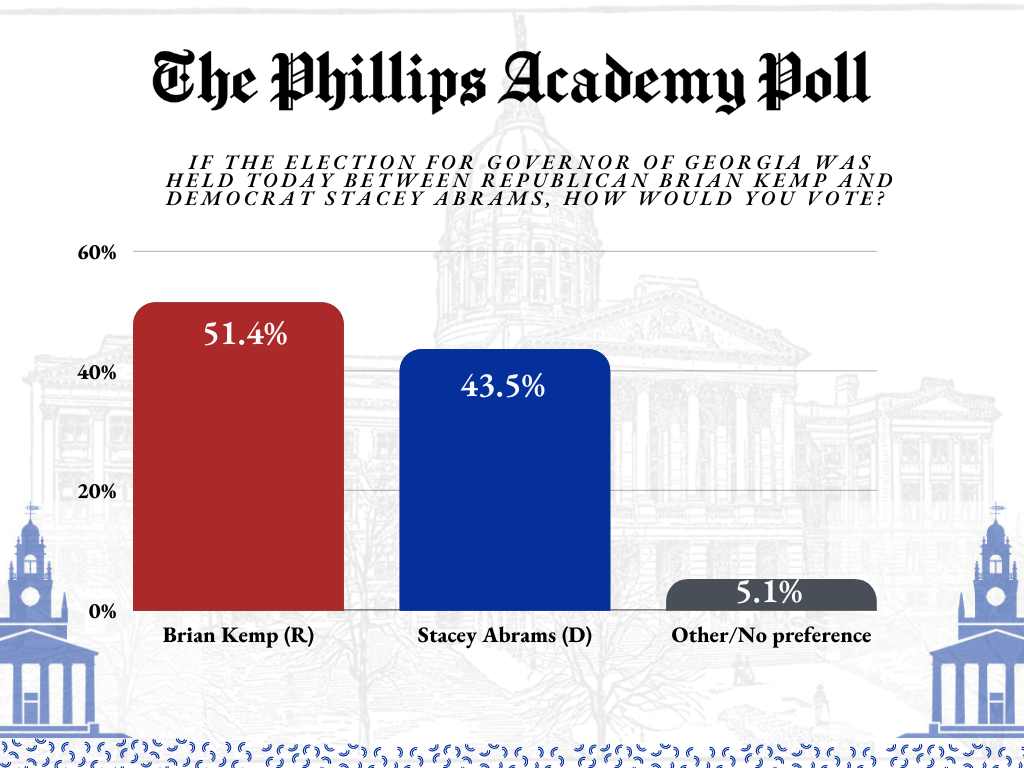 The Phillips Academy Poll found incumbent Republican Governor Brian Kemp leading Democratic challenger Stacey Abrams. 51.4% of respondents, an outright majority, supported Kemp, who leads Abrams by 7.9%. The two politicians also faced each other in the 2018 gubernatorial election, where Kemp won by only 1.4%. Kemp draws most of his support from older voters (65+: 62.1%), white voters (68.3%), and households making over $100,000 per year (60%). Kemp saw especially favorable numbers from rural voters, with 67.4% of respondents living in rural areas responding in his favor. Notably, 15% of Democrats broke with their party to support the incumbent Republican as well. Contrastingly, Stacey Abrams found more support amongst younger voters (​​18-29: 54.4%; 30–44: 59.0%), urban voters (60.0%), and women (55.3%). Abrams also found large support from Black voters, with 71.4% responding in her favor. Abrams is a strong advocate for housing affordability, criminal justice reform, and gun control, whereas Kemp is in favor of more lenient tax policies, less restrictive gun policies, and voter identification laws. Georgia has not had a Democratic governor since 2003.
The Phillips Academy Poll found Brad Raffensperger winning in the Georgia Secretary of State election against Bee Nguyen. Raffensperger, the incumbent Republican, received 50.0% of the vote compared to his Democratic challenger, who received 34.1%. Raffensperger has been in office since 2019 and received national attention for rebuking Trump's assertions regarding the 2020 election. Meanwhile, Bee Nguyen is a two-term member of the Georgia House of Representatives. Raffenspeger enjoys popular support, even among Democrats, with 25.3% of Democratic voters crossing over in his support. This widespread support comes even as Raffensperger has been targeted by both President Trump over alleged voter fraud and Democratic groups over alleged voter suppression. The past four secretaries of state in Georgia have been Republicans, making Raffensperger's reelection seem likely.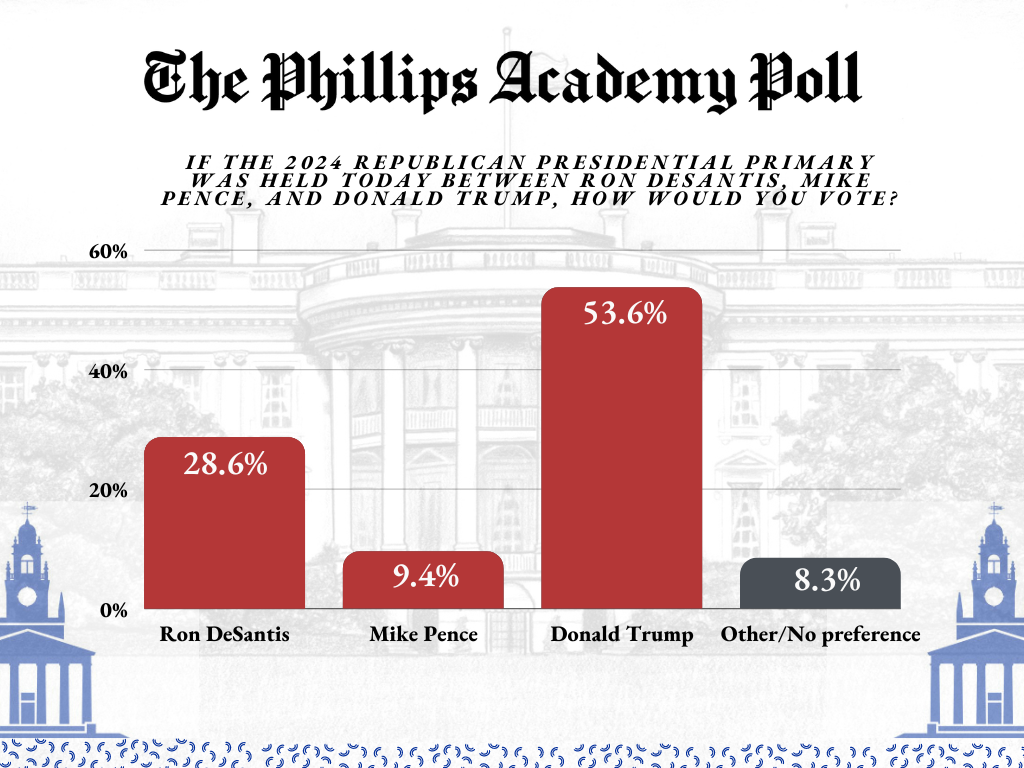 The Phillips Academy Poll found former president Donald Trump leading with 53.6% of the vote in a hypothetical Republican Presidential Primary against Florida Governor Ron DeSantis and former vice president Mike Pence. DeSantis received 28.6% of the vote, while Pence received 9.4%. The remaining 8.3% of respondents indicated other/no preference. DeSantis is the Governor of Florida and previously represented Florida's 6th district in the House of Representatives. Pence served as the Vice President of the United States from 2017 to 2021 and was previously the Governor of Indiana. Trump was the President of the United States from 2017 to 2021. Trump was the Republican presidential nominee in 2016 and 2020. His presidency was seen as a polarizing force, with Trump himself being impeached twice. Pence abandoned his re-election campaign for Governor of Indiana when he was asked to be Trump's running mate. Pence ran again as a vice presidential candidate with President Trump in 2020 but has not officially announced such a presidential run yet. DeSantis has also not publicly announced ambitions for a presidential run in 2024 but has recently gained recognition within the Republican Party. Under his leadership, Florida has seen the passage of numerous bills, notably the "Don't Say Gay" bill, which has brought DeSantis further into the spotlight.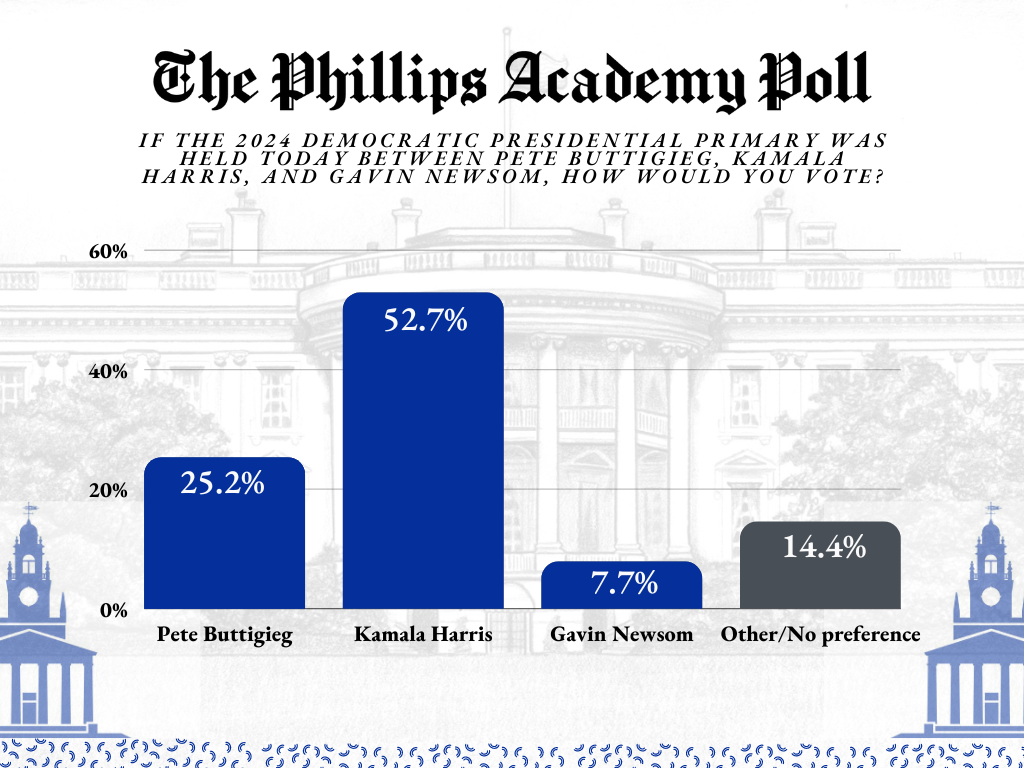 The Phillips Academy Poll found Vice President Kamala Harris leading with 52.7% of the vote in a hypothetical Democratic Presidential Primary against Secretary of Transportation Pete Buttigieg and California Governor Gavin Newsom. Buttigieg received 25.2% of the vote, while Newsom received 7.7%. The remaining 14.4% of respondents indicated other/no preference. Buttigieg, serving in President Biden's cabinet as Secretary of Transportation was previously the mayor of South Bend, Indiana, and ran for President in 2020. Harris is the current Vice President and also ran for President in 2020. Gavin Newsom has been the Governor of California since 2019 and survived a recall election in 2021. Gavin Newsom currently denies ambitions to run for president in 2024 but has run advertisements against Florida governor Ron DeSantis, a potential Republican presidential candidate, which some suggest alludes to a potential bid for the White House.
Click here for a full report on The Phillips Academy Poll's results.
This poll was conducted over the phone with both Live Calls and Interactive Voice Response (IVR) calls. Click here to see The Phillips Academy Poll's methodology.
This poll was made possible by a grant from the Abbot Academy Fund, continuing Abbot's tradition of boldness, innovation, and caring.
The Phillips Academy Poll thanks all of our live callers: Alex Shieh, Julian Reed, Nicholas Donnellan, Charles Goodyear, Hannah Chen, Bodhi Beroukhim, Avery Davis, Anthony Ganci, John Fernandez Suarez, Luke Fernandez Suarez, Felix Frisch, Naima Reid, Anna Korczak, Sinan Muratoglu, April Arabian, Anika Mittal, Raina Yang, Patrick Chen, Daniel Zou, Emma Capaldi, Ashley Song, Tianyi Gu, Izzy An, Nanqing Zhao, and Andrew Morgan.