New Hampshire is showing its purple colors this election cycle as Democrats and Republicans alike fight for victory across the state. Democrats seek to prevent a potential "red wave" as incumbent Senator Maggie Hassan fights to keep her seat against GOP candidate Donald Bolduc. New Hampshire's gubernatorial elections are also drawing attention as incumbent Republican Governor Chris Sununu faces off against Democrat Tom Sherman. The Phillips Academy Poll surveyed 1056 Granite Staters in a likely voter poll conducted with interactive voice response and text messages from November 5 to 6.
In the race for senator, incumbent Democrat Maggie Hassan is leading Republican Don Bolduc by 4%. Libertarian candidate Jeremy Kauffman takes only 2% of overall support, and 6% of voters remain undecided. Hassan won her last election in 2016 by a margin of 800 votes against incumbent Republican Kelly Ayotte. In the 2020 election, New Hampshire sided with Democrat Joe Biden for president and re-elected Democratic Senator Jeanne Shaheen.
Hassan served as governor of New Hampshire from 2013 to 2017, and before that was a state senator. Republican challenger Don Bolduc is a retired brigadier general and police officer. Bolduc served in many high-ranking positions within the Pentagon and was also deployed to Afghanistan, Iraq, and Kuwait. This November, the prominent issues on voters' minds are abortion and inflation. New Hampshire Democrats worry that a flip of the Senate seat could pave the way for a federal abortion ban. Although Bolduc has stated he would oppose an abortion ban, his earlier statements appear to contradict this statement. Inflation has also caused significant tension between the two candidates, with both promising to address the rising costs plaguing the state. Hassan has referenced her bipartisan voting record, while Bolduc has criticized her for voting in favor of the Democrats' recent infrastructure bill.
Hassan leads Bolduc among women (58%), college-educated voters (55%), and suburban areas (53%). Hassan is heavily favored among Democrats (91%) and holds slight advantages among voters earning from $50k-$100k (50%) and $100k (49%) per year. Bolduc, meanwhile, leads among non-college-educated voters (51%), male voters (53%), and rural voters (51%).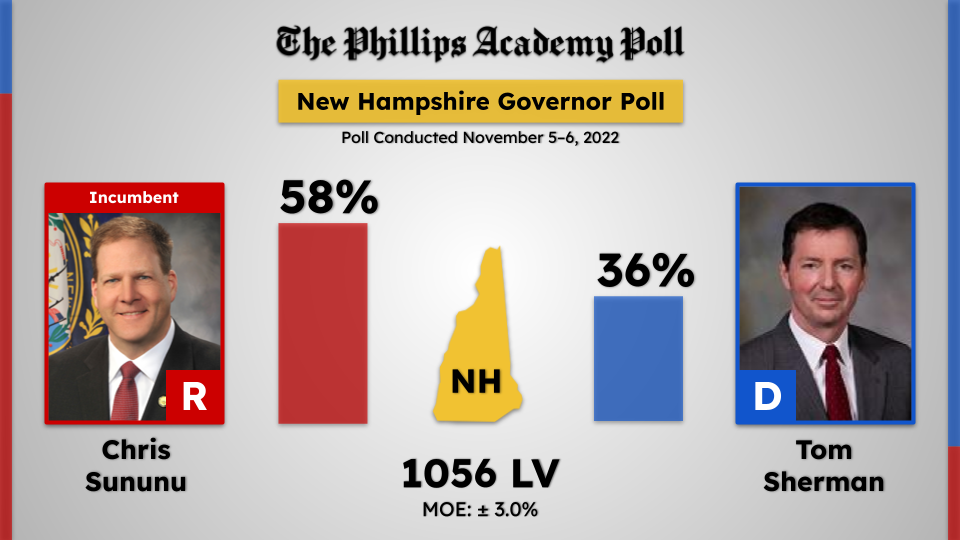 In the race for governor, incumbent Republican Chris Sununu is leading Democrat Tom Sherman by 22%. Sununu has taken a commanding lead, possessing 58% of the vote while his opponent, Sherman, holds only 36%. Although 6% remain undecided, Sununu's current lead seems strong enough to withstand any unforeseen shifts before election day.
Chris Sununu is the incumbent New Hampshire governor. Sununu previously served on the New Hampshire Executive Council from 2011 to 2017 before being elected as the governor of New Hampshire in 2017. Thomas Sherman is a member of the New Hampshire Senate representing the 24th district. He is the former chair of both the Senate Health and Human Services and Election Law and Municipal Affairs Committees. He is a prominent advocate for the Affordable Care Act at the state level. Education is a defining issue in this race, with both candidates arguing over the effectiveness of Governor Sununu's School Choice program. Sherman has also been a harsh critic of Sununu's tax cuts. Abortion, healthcare access, and environmental policies are also key issues in this election.
Sununu leads amongst almost all demographics. He is favored heavily among both male (69%) and female (50%) voters, as well as college-educated (53%) and non-college educated (62%) voters. Additionally, Sununu leads among voters in every income bracket ($0-$50k: 60%, $50k-$100k: 54%, $100k+: 62%). Democrat Tom Sherman leads only within his own party, garnering support from 82% of Democrats (16% of whom support Sununu), while Sununu has the support of 95% of Republican voters.
See the full poll report and cross tabs.
This poll was conducted with text messaging to mobile phones and IVR to landlines.
This poll was made possible by a grant from the Abbot Academy Fund, continuing Abbot's tradition of boldness, innovation, and caring.