Arizona is heating up, and we're not just talking about temperature. Arizona Democrats are trying to preserve their seat, currently held by Mark Kelly, while the GOP hopes to gain a majority in the Senate. Arizona's gubernatorial election is also highly competitive, with incumbent Republican Governor Doug Ducey term-limited. The Phillips Academy Poll surveyed 985 Arizona residents in a likely voter poll from October 29 to 30.
Incumbent Democratic Senator Mark Kelly is leading Republican challenger Blake Masters by 1%, well within the poll's 3.1% margin of error. Libertarian Marc Victor received 2% of the vote, and 5% of voters were undecided. The race has narrowed in recent weeks, as swing voters weigh inflation and economic turmoil, associated by some with the current Democratic leadership, while Republicans struggle to compete with Democrats in fundraising overall. In 2020, Kelly flipped the vacant seat previously held by John McCain, who died in office in 2018. Before pursuing a career in politics, Democrat Mark Kelly served as an astronaut and a captain in the Navy. Kelly's opponent, Republican Blake Masters, is a businessman and venture capitalist who, in 2016, was a member of the Trump transition team. With Trump's endorsement, Masters easily won his primary against a field of four other Republican candidates.
Kelly's platform prioritizes protecting abortion rights, fighting climate change, investing in healthcare, and creating jobs. Meanwhile, Masters promises to secure the border, reduce inflation, crack down on crime, protect the unborn, and ensure American energy independence. Gun crime has proven to be a point of contention between the two, as Kelly has advocated for stronger regulations on gun ownership while Masters has emphasized the link between organized crime and gun violence. Masters has also faced criticism from the Trump wing of the Republican party, largely a result of his refusal to deny Biden's win in the 2020 election.
Masters has won the support of male voters (50%), rural voters (58%), and Hispanic voters (49%). Kelly has garnered strong support from white voters (49%), urban voters (55%), and college-educated voters (57%). Kelly has also seen support from Republican voters (12%) and is outperforming Democratic gubernatorial candidate Katie Hobbs by nine points in rural areas of the state.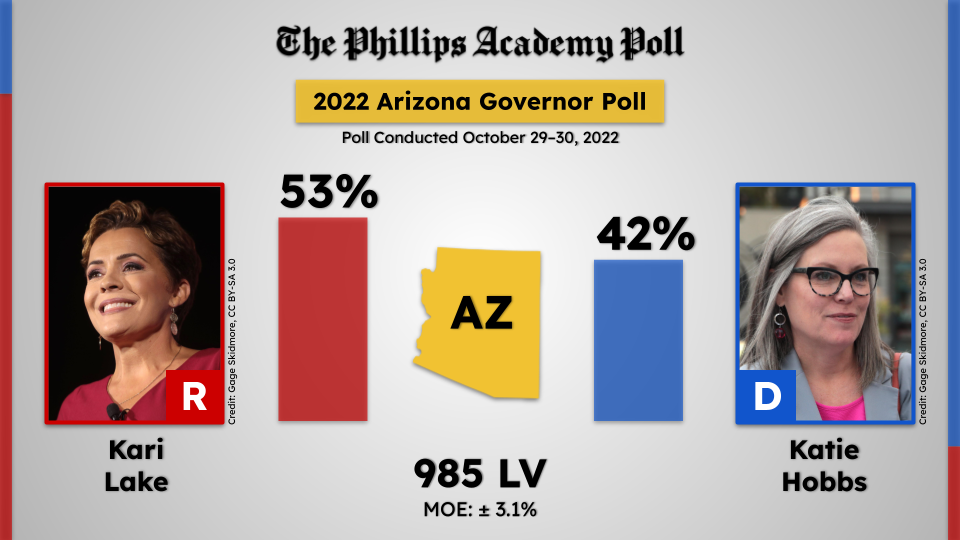 Republican Kari Lake leads Democrat Katie Hobbs by 11% in the Arizona gubernatorial election. Republican Kari Lake previously worked as a news anchor for Phoenix's Fox station, and in her August primary, beat out three rivals with the endorsement of former president Donald Trump. Her opponent, Democrat Katie Hobbs has served as Arizona's Secretary of State since 2019. Hobbs previously served in the Arizona House of Representatives, and as a State Senator, where she served as the Senate minority leader for four years.
In their final appeal to voters, Lake and Hobbs are battling over issues such as border security, abortion, the economy, and broader social issues. Lake's agenda includes stronger border security, the removal of vaccine mandates, and pro-life policies. The Lake campaign also touts the importance of the 2nd Amendment and seeks to aid rural communities and small businesses by cutting taxes on rent and groceries. Lake has also reiterated the false claims that former president Donald Trump won the 2020 election. Conversely, Hobbs is running on a platform of protecting abortion access and increasing education funding. She has also advocated for greater transparency within the state government.
Lake currently enjoys a large amount of support from male voters (59%), non-college-educated voters (60%), Hispanic voters (56%), and voters earning above $100k per year (54%). Lake also has more female support (50%) than Hobbs (47%) and drastically outpaces Hobbs in rural areas (66%). Hobbs, meanwhile, enjoys significant support from college-educated voters (54%) and urban voters (50%).
See the full poll report and cross tabs.
This poll was conducted with text messaging to mobile phones and IVR to landlines. See the methodology here.
This poll was made possible by a grant from the Abbot Academy Fund, continuing Abbot's tradition of boldness, innovation, and caring.
CORRECTION: This report previously described Kari Lake's 5-point primary win with the subjective qualifier "narrow." This language has been removed.
CORRECTION: This report previously stated that Kari Lake was endorsed by Governor Doug Ducey prior to her primary win.