Pennsylvania—a major swing state—is gearing up for competitive races for senator and governor this November. With the Senate currently split 50–50, Pennsylvanians could decide which party controls the Senate in 2023. Furthermore, the next governor could impact the state's election laws, potentially deciding the fate of the 2024 presidential election. The Phillips Academy Poll surveyed 759 registered voters in Pennsylvania from September 16 to 19, to determine the public's outlook on the candidates.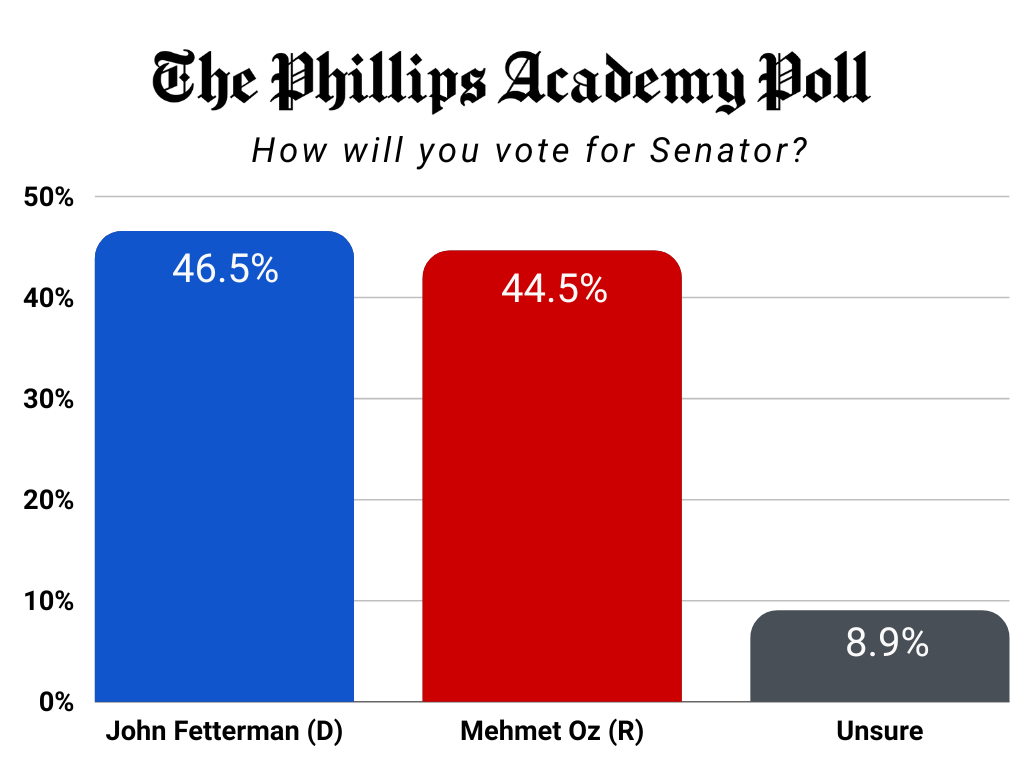 Democrat John Fetterman is leading by 2.0% against Republican Mehmet Oz in the race for senator, within the 3.6% margin of error. John Fetterman, the Democratic nominee, has been the lieutenant governor of Pennsylvania since 2019. Mehmet Oz, better known as "Dr. Oz," is a surgeon and television personality, and has been endorsed by Donald Trump. The Senate seat is currently held by the Republican Pat Toomey. Pennsylvania's other senator, Bob Casey Jr., is a Democrat.
The senate race has devolved into a battle of insults between Fetterman and Oz. Fetterman has accused Oz of not being a true Pennsylvanian, as Oz has lived in New Jersey for the past twenty years. Oz argues that Fetterman is unfit to serve due to a stroke he suffered last May, and suggests that Fetterman's policies will release criminals. Last month, a campaign video of Oz in a grocery store went viral after the doctor mispronounced the name of the store and then filled his arms with ingredients for a crudité platter. This led to one of Fetterman's largest donation sprees, as the video unintentionally portrayed Oz as being out of touch with voters.
Fetterman is leading heavily among female voters (49%), voters with college degrees (49.3%), as well as younger voters (52.6%). Republican Mehmet Oz leads among male voters (51.0%), as well among voters with an annual household income greater than 50 thousand dollars a year ($50-100k: 48.1%, $100k+: 49.2%). Notably, Oz outperforms Doug Mastriano, the Republican candidate for governor, amongst voters earning above $100k by 12.6% (49.2% to 36.6%), as Fetterman's vocal support for progressive economic policies and labor unions may be dissuading high-income Pennsylvanians.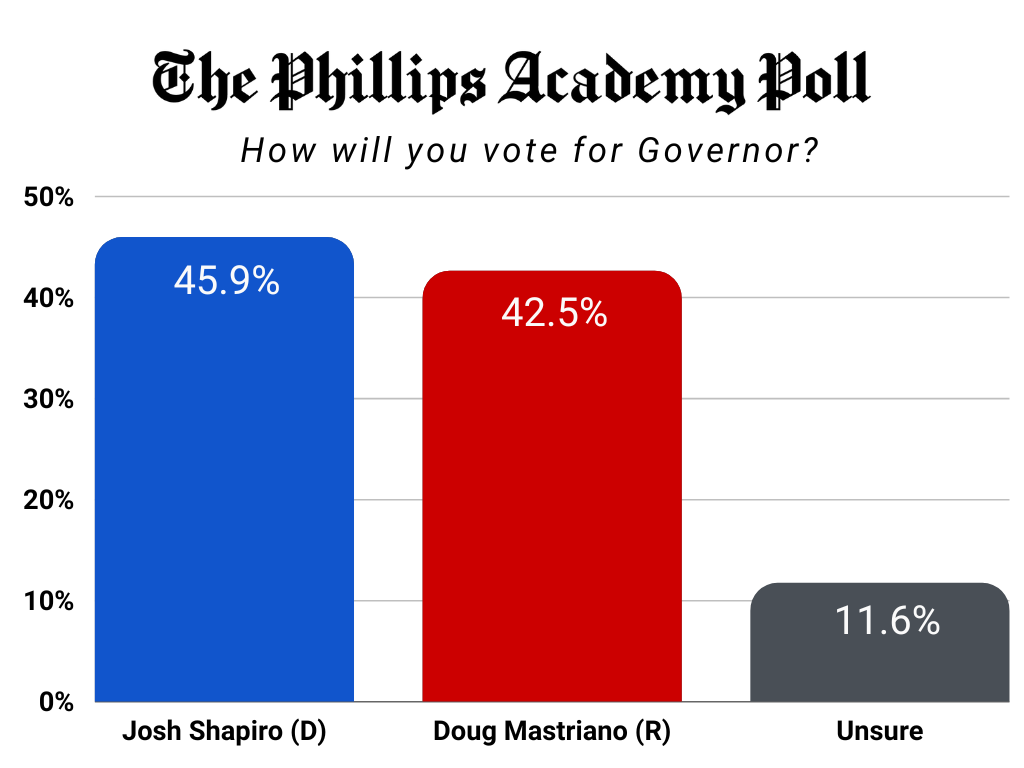 Democrat Josh Shapiro is narrowly leading by 3.4% against Republican Doug Mastriano in the Pennsylvania governor race. The difference is also within the poll's 3.6% margin of error. Shapiro, the attorney general of Pennsylvania, took the Democratic nomination uncontested, while Mastriano, a state senator, won the Republican primary election with 42% of the vote. The incumbent governor, Democrat Tom Wolf, is term-limited and thus not seeking reelection.
Josh Shapiro's campaign has focused on his record as attorney general and his potential ability as governor to veto legislation passed by the Republican-majority state legislature. Shapiro has highlighted his experience in the criminal justice system, especially in cases related to LGBTQ issues, workers' issues, and election security. Conversely, Doug Mastriano has backed Trump's claims of large-scale election fraud in the 2020 election and has made election security a part of his platform, supporting a ban on mail-in voting and voter identification requirements. If elected the governor of Pennsylvania, he would also have the power to appoint the secretary of state, who certifies election results.
Shapiro has garnered much support from female voters (49.2%) and college-educated voters (46.3%). Conversely, Mastriano received more of the male vote than Shapiro (46.8%). Those without a college degree were almost equally likely to choose either Shapiro or Mastriano, with 46.2% selecting Shapiro and 46.5% selecting Mastriano. Shapiro remains ahead of Mastriano in both age demographics, but only by single-digit margins amongst either group. Voters in households earning under $50k per year and those earning over $100k per year were all more likely to vote for Shapiro (46.2% and 57.3%, respectively), while middle-income households (earning $50-100k per year) favor Mastriano (52.4%).
See the full poll report and cross tabs.
This poll was conducted with interactive voice response (IVR) phone calls to landlines, and text messaging to mobile phones. See this poll's methodology.
This poll was made possible by a grant from the Abbot Academy Fund, continuing Abbot's tradition of boldness, innovation, and caring.