Nevada, known for its larger-than-life casinos and vast desert expanses, is shaping up to be a close battleground state this midterm election cycle. Amidst a high-profile senate and governor race, November's election will be important for the political landscape of the state and the country, as Republicans hope to gain another seat in the battle for Senate control. The Phillips Academy Poll surveyed 1052 individuals in a likely voter poll from October 22 to 23 via text messages.
Democrat Catherine Cortez Masto is leading by 2% against Republican Adam Laxalt in the race for senator, within the poll's 3% margin of error. Incumbent Democrat Catherine Cortez Masto has positioned herself as an advocate for women and the middle class. She was a civil attorney and criminal prosecutor before being elected as the attorney general of Nevada in 2006 and was the first woman to represent Nevada in the Senate. Republican Adam Laxalt served as Nevada's attorney general from 2015 to 2019. He advocates for responsible government spending, securing the southern border, and cracking down on all crime forms across the state. Laxalt holds the support of former president Donald Trump. Currently, both U.S Senate seats in Nevada are held by Democrats; however, in the past decade, Nevadans have voted for both Democratic and Republican senators.
Abortion is a contentious issue in this senate race, as Cortez Mastro has voiced support for abortion rights while Laxalt has signed lawsuits backing abortion bans in the third trimester. Another controversial issue in this race has been climate change and global warming. Laxalt opposed investigations into Exxon-Mobil's role in downplaying climate change and has described renewable energy as inadequate and inefficient. In contrast, Cortez Mastro supports mainstream Democratic policies of prioritizing renewable energy sources. Finally, Laxalt has supported policies such as the wall on the US-Mexico border and has taken a hard stance on issues such as illegal immigration. Cortez Mastro has advocated for border reform that balances border security with citizenship paths for essential workers and DREAMers.
Cortez Mastro has found particular support amongst female voters (56%) and Black voters (59%). Laxalt has support amongst male voters (53%). Education level appears to have made little difference in support for either candidate.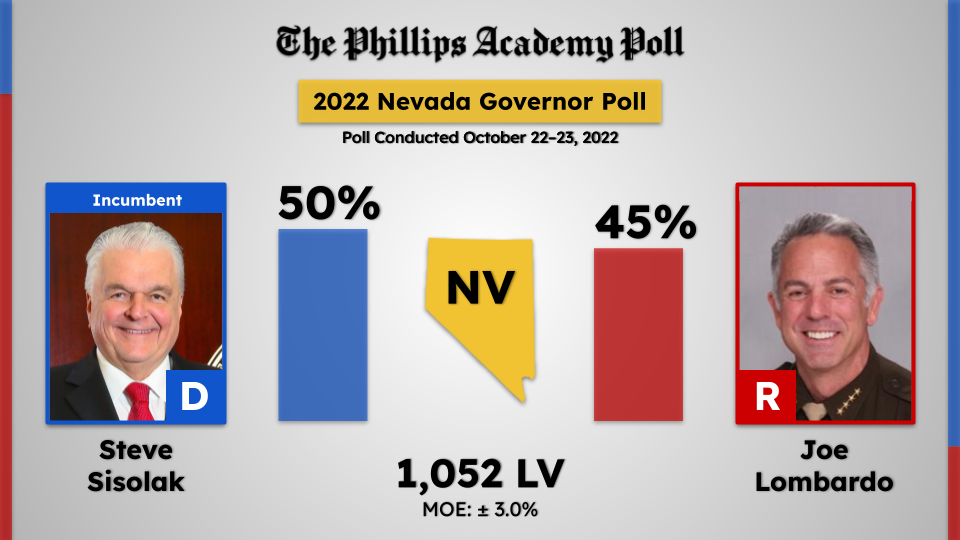 Democrat Steve Sisolak is leading by 5% against Republican Joe Lombardo in the race for governor. Sisolak is the incumbent candidate, and won most recently in 2018, defeating Republican challenger Adam Laxalt. Though this is Sisolak's first reelection campaign for governor, he has held some form of public office for 23 years in Nevada. His tenure has seen advances in gun control and healthcare legislation. However, Sisolak was criticized for his response to the COVID-19 pandemic by many Republicans. Republican challenger Joe Lombardo was endorsed by former President Donald Trump, but in debates he separated himself from Trump significantly, denying that he thought there was major fraud in the 2020 presidential election and even saying that Trump's accusations irked him as they undermined faith in the electoral system. Lombardo's position as Clark County Sheriff has positioned him as a candidate who strongly emphasizes law and order, as well as showing support for small businesses and pro-life policies.
While Sisolak commands a 5-point lead, he seems to have lost the typical Democrat-heavy support of Latinos in his state. He leads Hispanic-identifying voters with a narrow 2-point lead at 49% to Lombardo's 47%. However, Sisolak is gaining ground with a portion of Republicans, picking up 9% of Republican voters. Lombardo leads with male voters (50%) but is failing to gain the critical support of women (40%) and Black voters (22%).
See the full poll report and cross tabs.
This poll was conducted with text messaging to mobile phones. See the methodology here.
This poll was made possible by a grant from the Abbot Academy Fund, continuing Abbot's tradition of boldness, innovation, and caring.